You might have always dreamed of saying your "I Do's" in a special place; a banquet hall, a park, a bridge, or somewhere else. Wherever that place is, it will be a great honor to officiate your marriage in New York or New Jersey.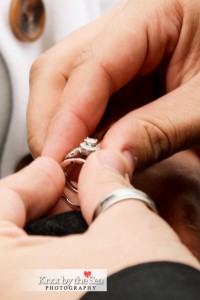 Congratulations on your recent engagement! This is perhaps the biggest moment of your lives and I'm pretty sure there is a lot of planning involved. My name is Alexandra Paez and would like to help you create a wedding ceremony just the way you dreamed it. Whether you want a religious, non-religious, spiritual, same-sex or a civil ceremony, I can help your ideas become a reality.
Your ceremony will represent all that you cherish, and the lasting journey that you will embark. It will represent your personalities, your beliefs, your culture, and your traditions. I am an ordained minister and wedding officiant registered in the City of New York. I perform wedding ceremonies in Northern New Jersey, New York City, and it's surrounding areas.
Every wedding ceremony is unique and I'm happy to sit down with you to create that special ceremony in which we incorporate your beliefs, your thoughts. Prices vary according to what the couple wants to incorporate in the ceremony. Over the years I have officiated hundreds of wedding ceremonies. I will make sure that your ceremony is nothing less than what you expect.
NYC (347) 460-5668 & NJ (201) 579-0499
Wedding Ceremony Types
Civil– A civil ceremony is a ceremony that does not include any religious aspects.
Religious– A religious ceremony can be traditional, depending on your faith, or include just a few aspects from your religion. Whether you are observant or non- observant, a religious ceremony is still an option.
Spiritual– A spiritual ceremony does not subscribe to one specific religion, but rather incorporates elements from several religions that are more spiritual and less conforming.
Renewal of Vows – A renewal of vows ceremony is a beautiful way for couples to rededicate themselves to one another.
Interfaith – An interfaith ceremony blends traditions, cultures, or religious aspects to make everyone feel celebrated and included.
Elopement – An elopement is a ceremony for couples that do not reside in New York City but wish to get married legally in New York. Legal marriages can be performed inside venues, outside in many of New York's historic places, or at place couples desire in New York.
Same Sex Weddings in New York/New Jersey
Same sex couples can now legally marry in New York and New Jersey. These ceremonies can be civil, religious, spiritual, renewal of vows, or interfaith. You may start the process and apply online at the New York City Marriage Bureau website, click here to start the process to obtain a marriage license online (for New York only)
Contact me for pricing information on your unique wedding ceremony. I can also suggest different packages and exciting locations where you can have your special day.
NYC (347) 460-5668 & NJ (201) 579-0499
What is a wedding Officiant?
The person who officiates at weddings may also be called: minister, officiant, officiate, wedding officiant, wedding minister, wedding officiator, marriage officiator, marriage minister, marriage officiant, marriage official, wedding clergy, marriage clergy, wedding celebrant, marriage celebrant, wedding officiate, Justice of the Peace, JP, pastor, civil officiant, and reverend. Whatever term is preferred, we'll be sure you're Wedded Your Way.