Have you ever thought about getting married in New York City or in Central Park?   Are you having a small, intimate wedding in New Jersey?   Many couples go through this wonderful experience every year, and we make it more affordable than what you might think! We offer the elopement package for both New York City and Northern New Jersey.  The package offers you two main ingredients for an amazing wedding at an affordable price: the Wedding Officiant & the Photographer. We can also offer you the witness at no additional cost.  If you are eloping in the big city, or having a small wedding, this service might fit your needs… and your budget.
What is included in the packages?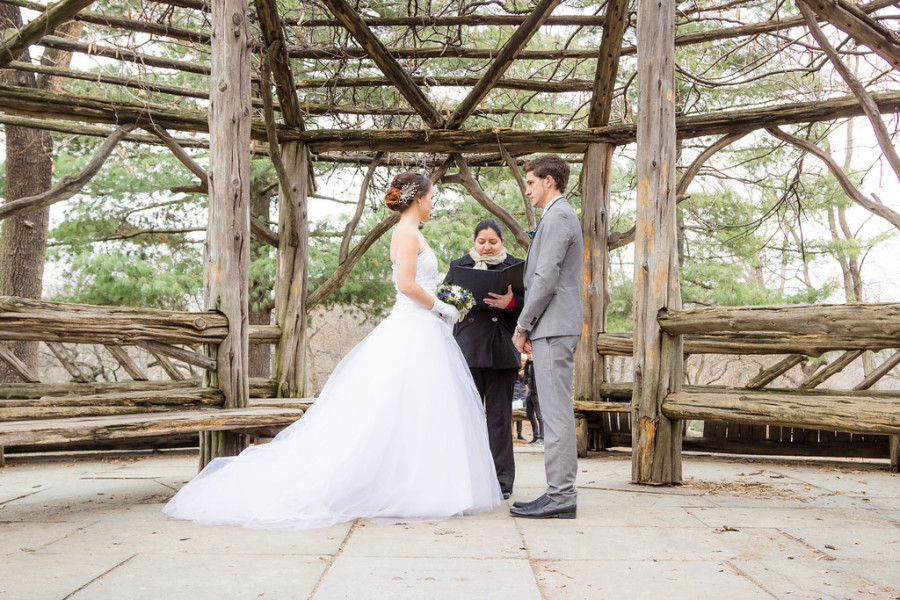 Wedding Officiant
Our licensed wedding officiant register with the city of New York  will work with you to create a ceremony that is carefully designed to include everything that you hold important in your life.   You will have unlimited opportunities to speak with your officiant, via call, email or text, to ensure that all your expectations are met. Your wedding, Your Way.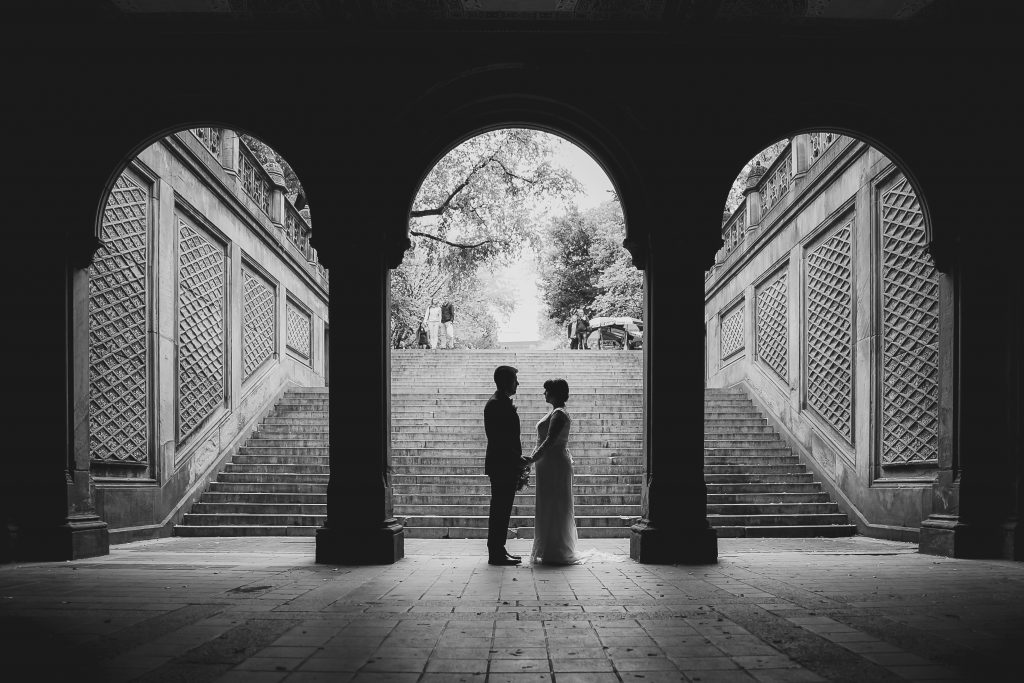 New York City Elopement Photography
Our wedding photographers will provide up to 2 hours of photography for your day.  The photographer will capture your wedding or elopement experience before, during, and after the ceremony. Our extensive experience capturing weddings in Central Park will ensure that you will have nothing but the best locations. The photography session will include candid shots are well as a professional portraiture. Our photography style is photojournalism with a splash of traditional wedding poses; you get the best of both worlds.   Shots will be professionally processed and will be provided to you in a free online gallery as well as digital ZIP file.
Up to 2 hours of photography
A secured online gallery to share images with your loved ones
A digital copy (ZIP file) sent with 150+ professionally retouched images
Optional Photo book with your wedding images
A video slideshow with your favorite images and love song

Unique Customer Experience
We understand that you probably have many questions about the entire process, the paperwork, and the day in general.  We are here to answer any of your wedding related questions and will assist you in making your big day a reality.  
Our Packages
It's our mission to accommodate as much as we can to your budget and to ultimately exceed all your expectations.  We currently have three different packages that we offer to make your Intimate Wedding Ceremony & Elopement in New York City  unforgettable.
Intimate Wedding & Elopement Package –  (Most Popular)
Personalized Ceremony with officiant
2 Hours of Photography

150+ pictures in high resolution
Online Gallery & Digital file (ZIP) with images
Video Slideshow of your images

Personalized Wedding Bouquet & matching Buttonhole*
Assistance with choosing your wedding location
Securing central park permit (if needed)
Unlimited communication with your wedding planner.
Just Marry Us Package
Our budget friendly package
Wedding Officiant for your wedding
Choose from popular ceremony samples
Personalized Wedding Bouquet &  matching Buttonhole*
1 hour of photography

75 images in high resolution
Online Gallery & Digital file (ZIP) with images
Central Park Express Elopement Package (Quick & Sweet)
Our most affordable package
Wedding Officiant for your Central Park wedding
30 minutes of photography (covering the ceremony and 15 minutes after)

25 images in high resolution (option to purchase more at the online gallery)
Online Gallery & Digital file (ZIP) with images

this package does not include flowers or planning services.
Deluxe Package –  (Everything you Need)
        Horse Carriage, Limo, Champagne, Flowers & Coordination
Personalized Ceremony with officiant
2 Hours of Photography

150+ pictures in high resolution
Online Gallery & Digital file (ZIP) with images
Video Slideshow of your images

Personalized Wedding Bouquet & matching Buttonhole*
Assistance with choosing your wedding location
Securing central park permit (if needed)
Wedding day coordination
Horse carriage ride in Central Park (to your wedding location if possible)
Limousine Service from your Hotel (or location in Manhattan) to Central Park
Complimentary Champagne
Complimentary Photo Book (10 X 10, 20 pages)
The photographer will serve as wedding witness (if needed)